---
Shipping Rate Information
Flat Rate Shipping Fee of $14.95
*Some restrictions apply!
For regular ground UPS within the 48 states, we are going to charge you a Flat Rate Shipping Fee of $14.95 per order. If your order is able to be shipped via UPS ground, and is not restricted all you pay is $14.95. We'll pay the rest. The more you order, the more you save! You know what else? We won't charge you freight on backorders. If we don't have the part in stock when you order it, we'll ship it to you freight-free.
No matter how much you order, you'll benefit from one freight cost!
We want you to get the best value! We're not going to surprise you with huge freight charges. Place your order today, and save!
* Unfortunately some items just can't be shipped out using our $14.95 Flat Rate Shipping fee. If you see the icon below these item will incur an additional $14.95 shipping fee. Fee will be added at time of packaging!
*Items too large to ship via UPS Ground or Air will fall under our truck freight shipping policy. *Oversized and Hazardous items do not qualify for air shipping or $14.95 Flat Rate Shipping. (Examples: Paint, Aerosol Cans)
---
1. Shipping Process Information

1.
After your order is placed over the internet it will be reviewed by our shipping team. You will be notified, by e-mail, of any discrepancies at this time.
2.
Once that step is complete a pick ticket will print in our warehouse.
3.
The order is then pulled from our shelves, checked, packed and shipped.
4.
Once the order has shipped you will receive your UPS tracking number via email.
Use the map below to determine how long it will take to receive your order once it has been shipped.
---
2. Same Day Shipping Information
In an effort to better serve our customers, StevesMustangParts.com now offers same day shipping on most web orders. This service is available to all of our customers at no extra charge. Simply place your web order as usual and wait for your package. Some conditions will apply.
Orders placed on Saturday and Sunday will be shipped the following Monday in most cases.
3. Same Day Shipping Terms
1.
Online orders placed between Monday and Friday by 1:30PM CST
2.
Items in stock
3.
Non-truck freight items
---
UPS Shipping Map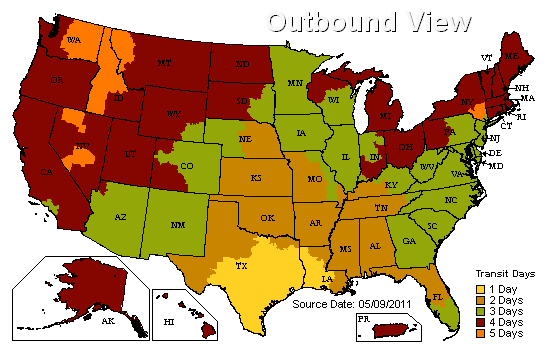 ---
Truck Freight Shipping Information
Some products that are marked Truck Freight are actually just oversized items. These are products that include Bumpers, valances, ect. and other odd shaped items. These items would not be truck freight and will actually be shipped by UPS at actual rates depending on weight and dimensions. You will be contacted by our staff with a final shipping cost before your order actually ships.
Flat Rate Freight Shipping Fee of $140.00
(Business Address Only)
* Some restrictions apply!
Flat Rate Freight Shipping Fee of $195.00
(Residential Address Only)
* Some restrictions apply!
Truck Freight shipping applies to all items too large to ship via UPS. Truck Freight items are identified both on our catalog and on the web site. These items are assessed extra shipping charges due to their size or weight.
All truck freight orders need to be checked by the receiver before being signed for. Once the paperwork is signed and given to the driver, the receiver is responsible for all damages to product and StevesMustangParts.com will not be held liable.
Truck freight Items generally take 4-7 working days for delivery and a Flat Rate Shipping Fee of $140.00 up to $195.00 applies to all truck freight orders. * This shipping amount applies to one Truck Freight Box (Example of size - 2 fenders will fit in one box), if more than one is needed you will be contacted with additional shipping charges. If ordering truck freight items as well as UPS ground items, all parts will be shipped via truck freight under the one $140.00 or $195.00 fee.
---
International Shipping Information
Most international orders are required to be shipped via Global Express Mail. You will be informed on what shipping method to use at time of checkout. StevesMustangParts.com is not responsible for incorrect online freight quotes on international orders nor are we held responsible for duties and conversions/taxes that occur at international borders.
*Hazardous items do not qualify for international shipping (Examples: Paint, Aerosol Cans)

All International Orders will require Wire Transfer or Pay Pal payment only!
*Read below for more details!
No credit cards excepted unless you have past order history with StevesMustangParts.com Please call us at (936) 372-0022 with any questions you may have or to check on your private order history.
---
Backorders Information
From time to time parts that you order may be out of stock. You will be notified by email if parts on your order are out of stock. Our standard policy is to ship the items that are in stock and then ship the remainder as it becomes available. There are rare cases when we will hold the entire order until it is complete. StevesMustangParts.com will ship all backordered items by UPS ground or priority mail at a discounted rate.
StevesMustangParts.com does not charge your credit card for any item that is out of stock or on backorder until that part is ready for shipment. An effort will be made to contact you when a particular item becomes available for shipment either by email or by phone.
---
Return Policy Information
Please contact us prior to sending us any returns or exchanges. We do not accept returns sent back to us by COD. Merchandise not returnable after 30 days and must be in returned uninstalled and in resellable condition. Please let us know as soon as possible so that we can issue a Return Authorization. This RA must be printed clearly in large letters next to the shipping label. After the allotted time we cannot accept responsibility. All returns must be sent to Steve's Mustang Parts prepaid by the least expensive way of transportation. Some returns may be subject up to a 20% restocking charge. Due to the bank's policy all returns paid by credit card are subject to a 5% credit card fee.
There are no returns or exchanges on the following: High performance parts, stripe kits, electrical parts, literature, software, special order items, NOS Ford parts, or any part where installation has been attempted.
---
Refused and Returned Shipments
The customer is responsible for all shipping and storage charges. Please note there is a 10% handling fee for all refused and returned shipments. A 10% restocking fee will be applied to returned merchandise that is not defective. Due to the bank's policy all returns paid by credit card are subject to a 5% credit card fee.
---
Damaged Merchandise or Shortages
Please inspect your parts as soon as you receive them. Should you receive any parts that or damaged or missing because of a broken box, please contact the freight carrier immediately. They will process your claim and contact us concerning the damages. Please keep the original box and packing material for it will be needed for the claim.
Please do not return any damaged parts to Steve's Mustang Parts. If anything in your order is damaged or missing, let us know within 3 working days. After this allotted time, we can not accept responsibility for the claim.